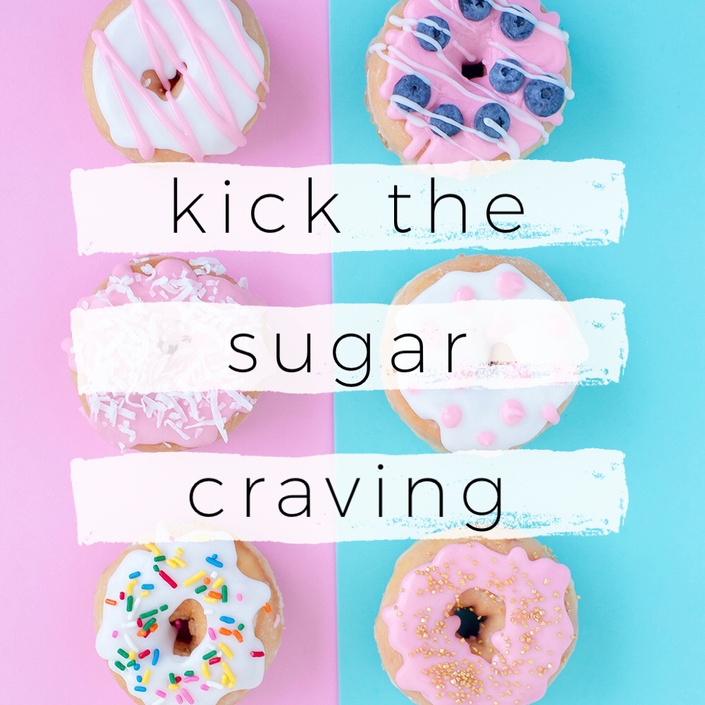 Kick the Sugar Craving Challenge
14 days to cut the cord with sugar for good
Does any of this this sound like you...
...you need a pick-me-up in between meals
...you experience the mid-morning or afternoon crash
...you get hangry / jittery / or a headache if your meal time is delayed
...you lack control around the sweet station at the office
...you find yourself constantly craving sweet treats
Well I've got good news!
You don't need to feel like a servant to the sweet stuff.
And I'm going to show you how...
This challenge is not about restriction, deprivation, or detoxing. It's like pushing a reset button on your habits so that you can move forward feeling healthier, happier, and more balanced.
What if you were finally free from the exhausting demands of sugar so that you could...
...Stop feeling hangry, irritable, and shaky when anticipating meals
...Have consistent energy levels throughout the day without crashes or a constant caffeine-drip
...Stop seeing your weight creep up on the scale, or ditch a few of those stubborn pounds
...Sleep better and feel more focused and enthusiastic during your day
...Approach the dessert buffet in moderation without the stress or fear of going overboard?
What exactly is the Kick the Sugar Craving Challenge?
At a really basic level - we're going to be saying goodbye to sugar for 14-days!
Before you panic, don't worry, there is no going hungry on this challenge. It's not about restricting the amount of food you eat - just about making specific choices and loading up nutrient dense alternatives.
But isn't sugar a source of energy for our body?
Yes! But it's not our only source - we also get energy from fat. When we over-consume, or over-rely on sugar we disrupt our body's ability to efficiently use fat for fuel.
Plus quitting sugar doesn't mean we won't be eating carbs! The focus is just going to be on specific sources that don't push our sugar craving button.
🚨 Over-consumption of sugar can... 🚨
...wreak havoc on your energy levels, making you drag yourself through the day and reach for sweets and caffeine
...cause you to gain or hold onto extra weight that is stubborn and difficult to shift
...suppress your immune system, often meaning more frequent illnesses or colds that just won't go away
...mess with your blood sugar balance causing your energy to spike and crash
...cause inflammation in your body possibly leading you down a slippery slope towards disease
In this 14-day challenge...
...We'll get rid of foods that trigger your sweet tooth so that you can cut the cord with cravings and later enjoy them on your own terms
...You'll receive loads of guidance to create your meal plans and shopping lists, saving you time, money, and brain space!
...I'll be with you each day letting you know what to expect and talking you through tricky scenarios that can pop up
...You'll receive a comprehensive workbook to help you keep track of your progress and see how the challenge is affecting your body, mood, and energy levels
...We'll get together virtually for some hot-topic discussions so that you can learn new skills to continue eating well after the 14-days are over!
Your Instructor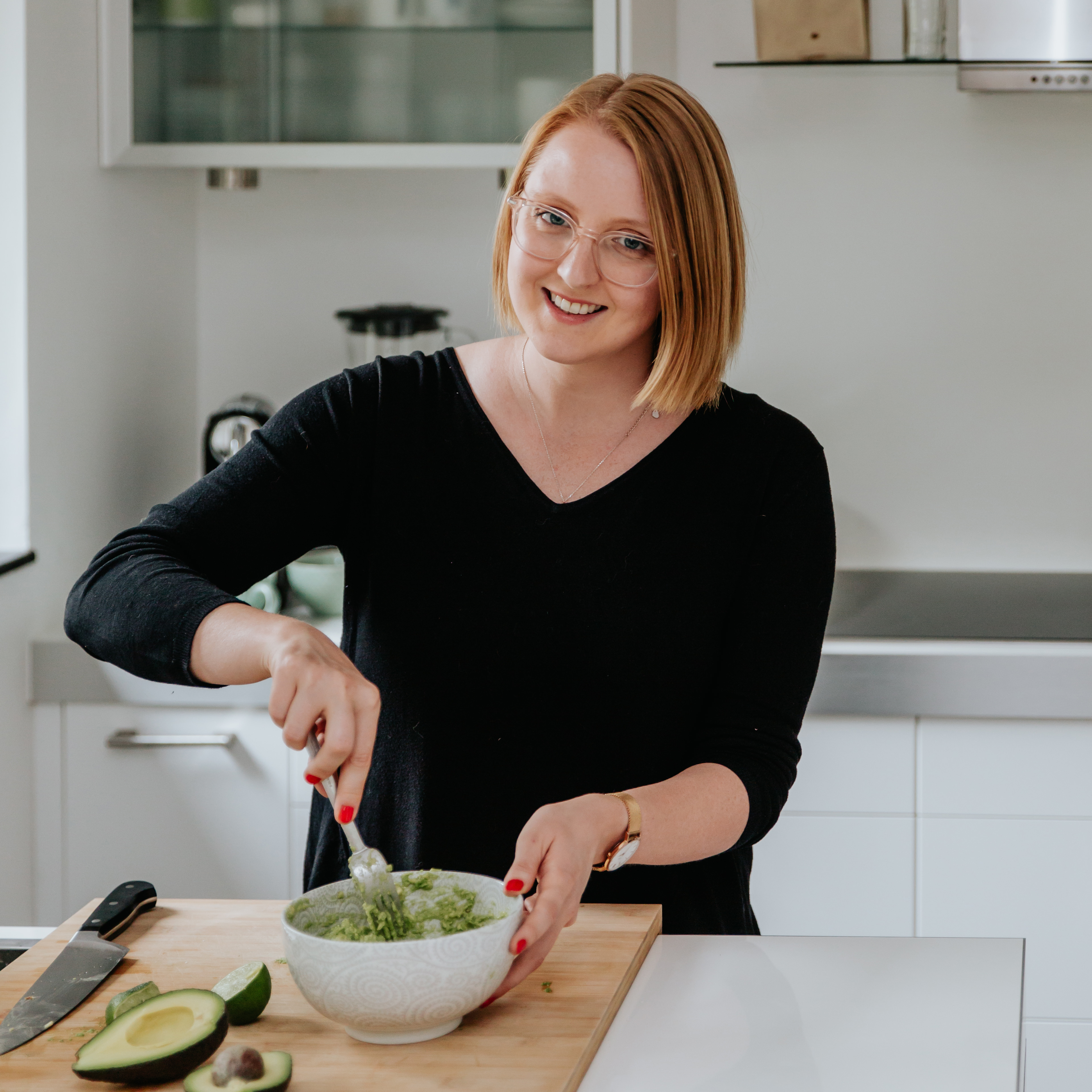 Hey, I'm Heather! A Nutritional Therapy Practitioner and founder of healthfullyheather.com
I help my clients feel comfortable again in their bodies and stop fearing food. Whether it's pesky digestive discomfort, like acid reflux, bloating, cramps, or irregular bowel movements, or perhaps stubborn weight that won't shift, hormonal imbalances, or skin issues, we dig deep to use nutrition and lifestyle changes to address the root cause and find relief.
It's my goal to educate people on how simple lifestyle changes, proper nutrition, and a healthy mindset can set them up for a healthy life. I coach on how to implement all of the above into their life in a way that is as simple as possible for the busy lives we all lead. I believe in real, nutrient-dense foods as the basis for proper health, but tailored to each individual as every body is different!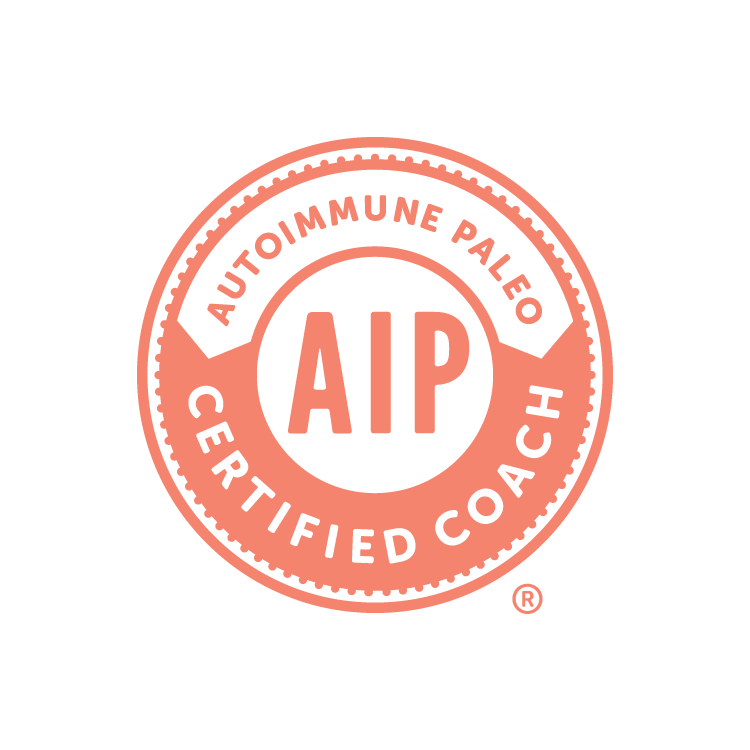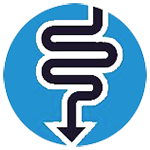 Get a sneak peek of what's waiting for you in the challenge portal...
Course Curriculum
Preparing for your Challenge
Available in days
days after you enroll
Day One
Available in days
days after you enroll
Day Two
Available in days
days after you enroll
Frequently Asked Questions
When does the course start and finish?
Enrolment is possible up anytime! You'll get immediate access to the portal as soon as you sign up, and can start the challenge whenever it works the best for you.
How long do I have access to the course?
How does lifetime access sound? After enrolling, you have unlimited access to this course for as long as you like - across any and all devices you own.
What if I am unhappy with the course?
We would never want you to be unhappy! If you are unsatisfied with your purchase, contact us in the first 30 days and we will give you a full refund. In order to receive the refund you must submit a fully completed workbook along with your request.
Do I have to follow a specific meal plan?
No. There is a list of foods to avoid during the challenge, but there is no set-in-stone meal plan you need to follow. That being said, there are lots of resources to help you create a meal plan of your own, plus an example of one you could follow!
Will I lose weight on this challenge?
That depends. We are all individual, and there is no one-size-fits-all approach that will address everybody's needs. However, if you are holding onto extra weight, there is a good chance you will see a decrease in those numbers! But there is no possible way to guarantee this result.
Should I just continue to eat this way forever?
Nope. Cutting out foods long-term isn't necessary for ongoing health. Some of the food we will be avoiding do have strong nutritional values, but for the purpose of a sugar challenge are best left out for this short period. We want to be able to eat the widest variety of foods as possible, while still maintaining good health, so eliminating food groups long-term is not a good strategy and usually not a sustainable method.